Live music, colorful daiquiris, Crawfish Monica — the New Orleans Jazz & Heritage Festival is a celebration in New Orleans like no other. Music fans from around the world flock South for the spring to see the biggest musical acts and their favorite New Orleans artists come together at the Fair Grounds. But one type of attendee stands out from the rest. In New Orleans, we simply call them: Jazz Fest Dads.
Often seen in brightly colored button-up shirts, Jazz Fest Dads don't even have to be dads themselves. They're just laid-back revelers that have become a Jazz Fest tradition of their own.
In the spirit of festival season, we put together a list of tips and tricks for how you can be a Jazz Fest Dad this year.
Dress to impress.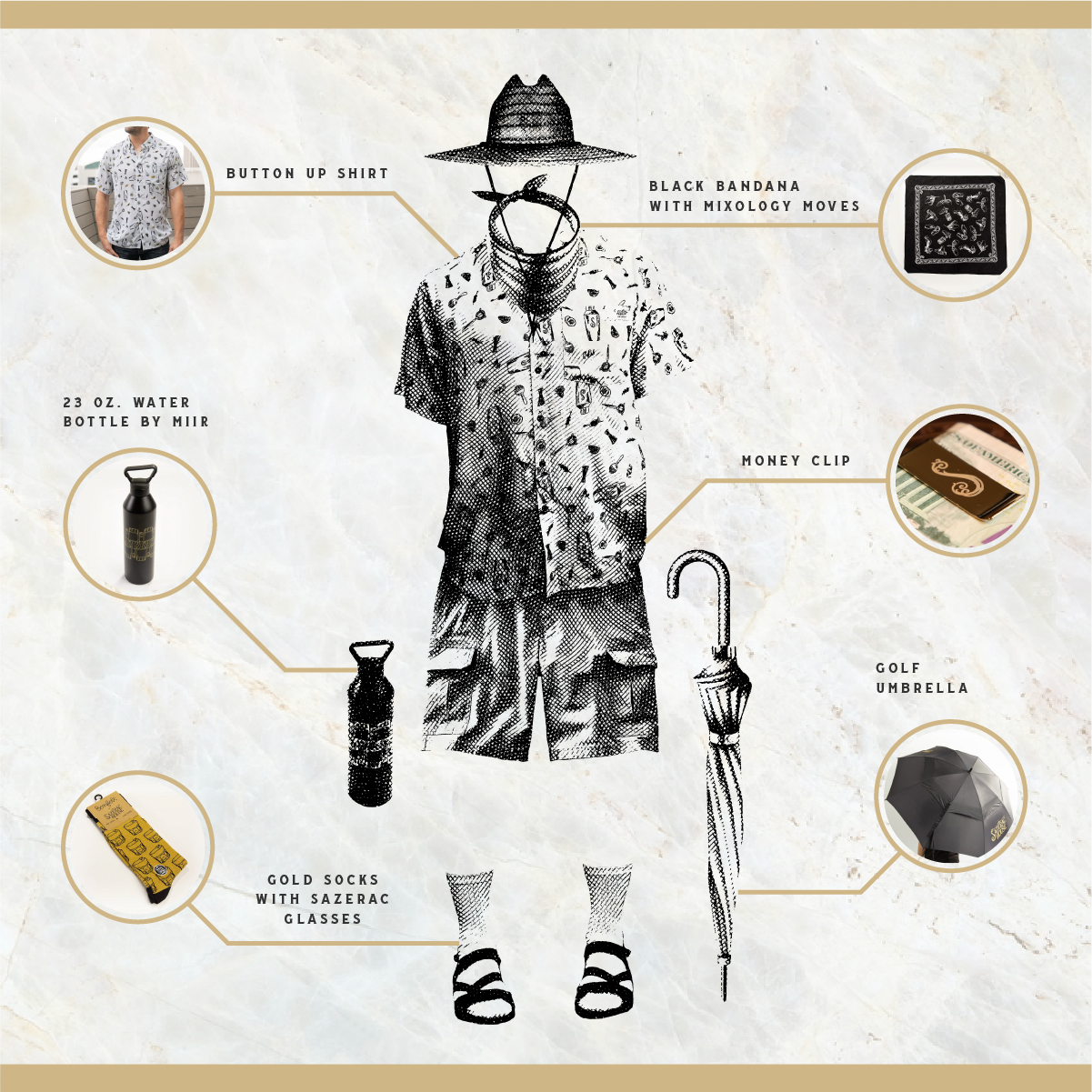 Put on your best and brightest short-sleeved button-up shirt. Patterns aren't just encouraged — they're a necessity. We've got just the shirt for youto show off your passion for cocktails while dancing away the weekend.
Socks go with sandals.
Ignore your instincts and throw on a pair of socks with your favorite sandals. If it's raining, you might need a pair of shoes to navigate the Fair Grounds. Either way, complete your Jazz Fest Dad look with some Sazerac socks.
Shade is your friend.
Rain or shine, an umbrella is a must for Jazz Fest. Block the sun while lounging in a beach chair or use it as an accessory for your best dance moves. Whatever you do, don't leave it at home.
Prepare for anything.
Bring a couple of bandanas for whatever Jazz Fest throws at you. Get it damp and tie it around your neck to keep cool. Use it as a napkin for those messy cochon de lait po-boys. Or just wave it around to the beat of the music. If you need a new one, .
Stay hydrated.
Between the hot sun to the cold daiquiris, it's best to always have a bottle of water nearby. Get our 23oz. water bottle to fill up once you're inside the gates.
Bring cash.
Some vendors inside Jazz Fest require cash-only payments. Come prepared with a money clip for easy access to your cash when you need your next drink the most.
Have fun.
Above all else, have a good time. Enjoy the music, drinks, food and fun that you can only find during festival season in New Orleans.